Turkey, Cannellini Beans, and Broccoli Rabe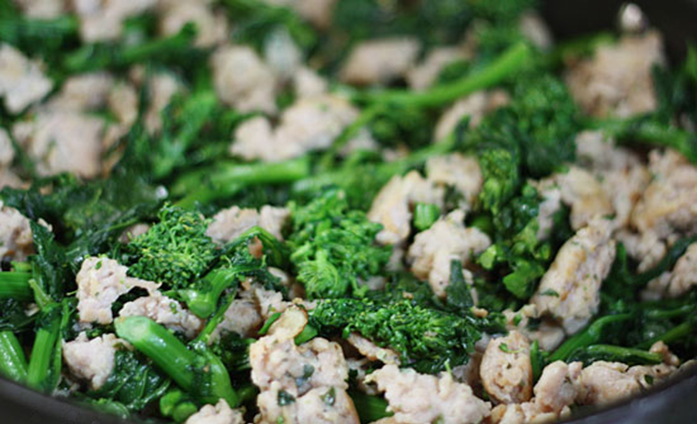 Today's recipe is a meal that I have for lunch about 2-3 times per week because it's delicious, healthy, and very filling. It's also incredibly easy to make, taking less than 10 minutes from start to finish. This recipe makes two servings, so you can easily store it in the fridge for another meal.
Ingredients
1 – 1.5 lbs lean ground turkey (93/7)
12 oz of broccoli rabe
1/2 cup of cannellini beans
Salt and pepper
Instructions
Put a large nonstick pan on medium heat. After it reaches temperature, add the ground turkey and break it up with a spatula. Salt and pepper the turkey while it's cooking in the pan.
Now, while the turkey is cooking, chop up the broccoli rabe. Cut off the rough ends of the stalks, but you don't have to cut off the stalks entirely because they're perfectly edible (and delicious).
Go back to the turkey, break it up some more, and cook until nearly all the pink is gone.
Now add the chopped up broccoli rabe to the pan. Don't mix it in yet, just let it sit on top of the pan for 3-4 minutes. Then mix up the turkey and broccoli rabe and let it cook until the broccoli rabe is finished.
Finally, add the beans, mix it up, and let the whole thing cook for another minute.
Nutrition Facts
Recipe yields 2 servings assuming 1.3 lbs of turkey used. Nutrition information is for 1 serving.
Calories: 538
Fat: 22g
Carbohydrates: 23g
Fiber: 12g
Protein: 69g