A Review Of Quest Protein Chips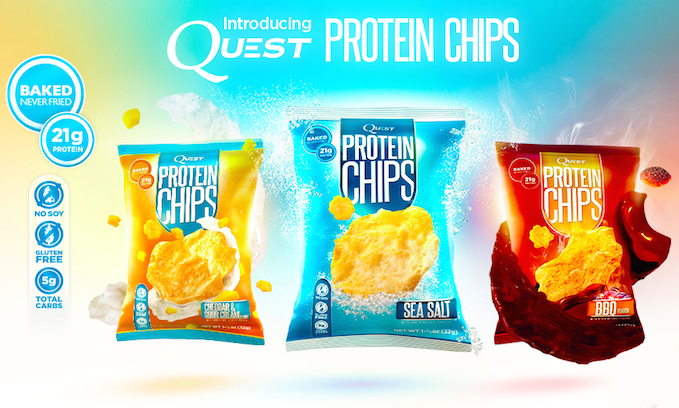 "Something new is coming!"
This was the teaser that Quest posted to its Facebook page on July 21st, tantalizing their Facebook followers with the promise of a new delicious snack that would easily fit into a healthy diet. People were excited. After all, we're talking about the same company that makes amazing low carb protein bars with high quality ingredients. As a recent fan of Quest Nutrition, I followed their page closely to see what the mystery snack would be.
When Quest announced that the new snack was going to be high protein chips, I immediately pre ordered all of the flavors. I like potato chips, but I don't eat them very frequently anymore – I just don't enjoy them enough to make it worth all the fat and extra calories. In one serving of Lay's potato chips (28 grams – about 15 chips), there are 160 calories, 10 grams of fat, 15 grams of carbs, and only 2 grams of protein.
But Quest Protein Chips have a much different – much better – nutritional profile than Lay's. In a full bag of the Quest chips (32 grams per bag), there are only 120 calories, 25% less than in a serving of the Lay's chips. And it gets even better. Quest Protein chips pack in a whopping 21 grams of high quality protein, with only 2 grams of fat and 5 grams of carbs! These are macronutrient ratios that can fit into any diet.
The very first ingredient in the Quest chips is their protein blend, which consists of milk protein isolate and whey protein isolate. This is the same protein blend that's found in the Quest bars, and I'm very impressed that Quest was able to make potato chips with protein as the first ingredient in the list.
The remaining 3 main ingredients are dried potatoes, corn starch, and sunflower oil. These 4 ingredients in total make up the base of the chip and is the same for all of the flavors.
Now for the most important question of all: how do the Quest Protein Chips actually taste? There are a plethora of healthy, high-protein snacks out on the market, but unfortunately, a lot of them taste like tree bark. And the ones that do taste good normally don't have a nutritional profile that's even in the same league as the Quest chips. Would Quest be able to make high-protein potato chips without sacrificing great flavor?
Luckily for all of us, the answer is yes. Even though I expected good things from Quest after trying their protein bars, I was honestly blown away by the Protein Chips.
First of all, the texture of the chips is absolutely perfect. You pick up one of the chips and instantly notice how light and airy it is. Then when you bite into it… wow. The crunch! For chips, it's all about the crunch, and these are some crunchy chips.
The Quest Protein Chips come in 3 different flavors: Cheddar & Sour Cream, BBQ, and Sea Salt. I ordered all 3 flavors so I could test them out for this review and determine which one I liked best.
Cheddar & Sour Cream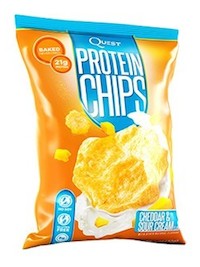 I tried this flavor first because I was the most excited about it. This chip has a delicious, sharp flavor to it – a nice mix of cheddar cheese with sour cream and onion.
The cheddar flavor is stronger than the sour cream, which makes sense given the fact that cheddar is the first ingredient among the list of ingredients that contributes to this chip's flavor profile. I assume that the sour cream flavor is a result of the buttermilk powder, onion powder, and garlic powder.
I absolutely loved this flavor, and I would have to rank it in first place. After finishing my bag, it took some willpower not to go ahead and eat another bag right away.
BBQ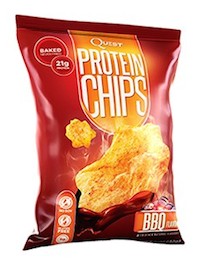 Another delicious chip. Quest just nailed the BBQ flavor. If you've ever had BBQ flavored potato chips before, you already know what these chips taste like. Sweet and a little smoky. The biggest difference is that the BBQ chips you're used to don't have 21 grams of protein per serving.
The BBQ flavor comes from a combination of tomato powder, onion powder, paprika, and garlic powder. The flavor is strong and addictive.
These were my 2nd favorite, but only because I happen to like the flavor of cheddar & sour cream more. In terms of execution, I'd put both chips on the same level. In fact, a friend of mine stated that BBQ was easily his favorite flavor.
Sea Salt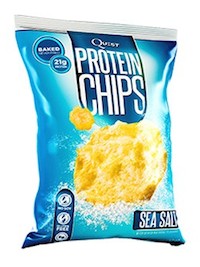 Compared to the other two, the flavor of this chip is very understated. Some would even say plain. It's sort of like you're eating the base of a Quest Protein Chip before they added the flavor. Perhaps that's because I ate this flavor last, and the other two are both very strong.
When you look at the list of ingredients, the only ingredient used to contribute to the flavor is sea salt. Which, for a sea salt chip, makes sense. But the sea salt flavor is very subtle, and it didn't have the same addictive quality as the other chips did.
Let me be clear, though: this is still a great chip. In fact, if Quest only made their Protein Chips in this one flavor, I would still buy them by the box – that's how good these chips are. They spoiled me with the cheddar and BBQ flavors, though, so when I buy more chips, it's likely going to be boxes of those two.
Conclusion
Quest Protein Chips are fantastic, both in terms of taste and nutrition. If I was forced to find one negative thing about these chips, I'd say that they're so addictive it can be difficult to eat just one bag.
That's how good they are…
If you'd like to try Quest Protein Chips for yourself, you can order a box here.