Turkey Meatloaf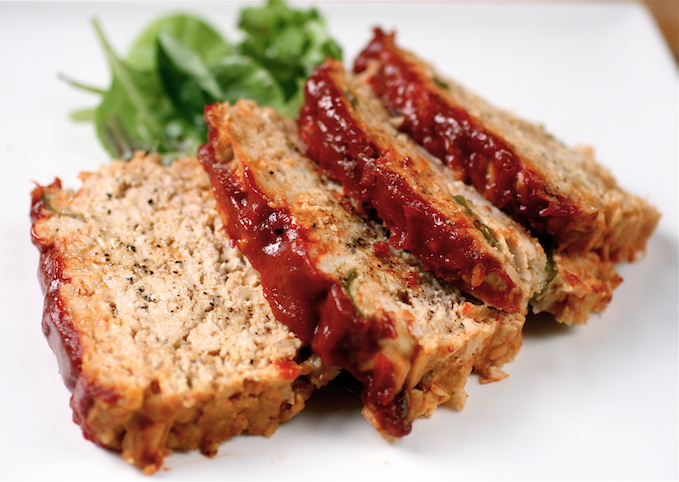 This is a recipe that I can promise you're going to love. Every time I make this turkey meatloaf, the dish gets rave reviews. Because the meatloaf looks enormous coming out of the oven, I'm always surprised at how few leftovers I end up having (if any).
The recipe is based on Ina Garten's turkey meatloaf. In fact, it's pretty much the same recipe, just halved so that you're only using 2.5 pounds of turkey instead of 5. I prefer the size of the smaller version and find it more manageable to handle for a quick weekday night dinner.
Turkey meatloaf is packed with protein and is much lower in fat than traditional meatloaf. I use 93/7 ground turkey to make it, and I wouldn't go higher in fat than 90/10. It's already very moist and delicious, and the added fat wouldn't do much to enhance the flavor.
Ingredients
1 large onion
1 tablespoon extra virgin olive oil
1 teaspoon kosher salt
1/4 teaspoon dried thyme leaves
2 tablespoons & 2 teaspoons Worcestershire sauce
6 tablespoons chicken stock
1 teaspoon tomato paste
2 1/2 pounds ground turkey breast
3/4 cup breadcrumbs
2 large eggs, beaten
6 tablespoons ketchup
Instructions
Preheat your oven to 325 degrees F.
Heat the olive oil in a saute pan over medium-low heat. Add the onions, salt, pepper, and thyme. Cook until the onions are translucent, about 10 minutes. When the onions are done, add the Worcestershire sauce, chicken stock, and tomato paste and mix well. Transfer the onion mixture to a bowl and let it cool down for a few minutes.
Now combine the ground turkey, breadcrumbs, eggs, and onion mixture in a large bowl. Mix it up well – I always use my hands, it's quick and easy. Then place the turkey mixture on top of a baking sheet lined with foil. Shape the turkey mixture into the shape of a meatloaf. Add ketchup to the top of the meatloaf and spread it around evenly.
Bake for 1 hour and 20 minutes, or until the internal temperature of the meatloaf is 160 degrees F.
Nutrition Facts
Recipe yields 4 servings. Nutrition information is for 1 serving.
Calories: 618
Fat: 28g
Carbohydrates: 27g
Fiber: 1g
Protein: 65g