Shrimp With Bacon And Scallions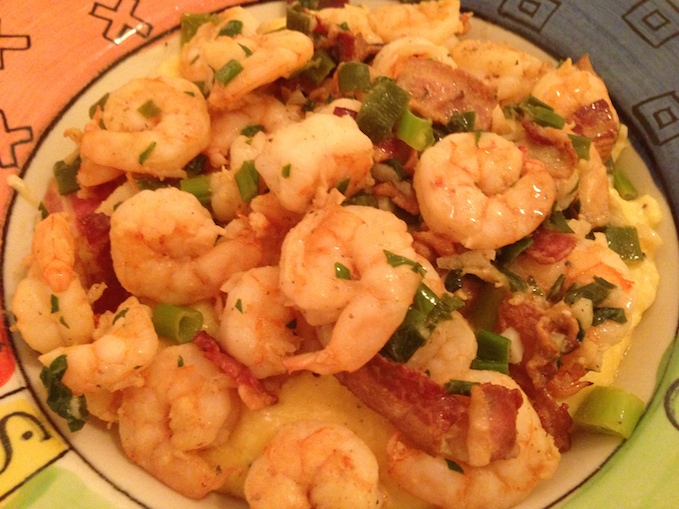 After cooking last week's bacon wrapped chicken recipe, I had a lot of bacon left over and wanted to make good use of it. I've also been experiencing strong cravings for Southern food ever since a friend of mine went on a food tour of the South, complete with jealousy-inducing photos of his good eats.
Shrimp and grits came to mind, but there was one big problem.
Shrimp and grits is loaded with calories – mostly from the grits. I mean, that's what you get when you stir in sticks of butter and several cups of cheese into grits. It's not exactly waistline-friendly. Grits are basically a food designed to absorb every last molecule of saturated fat you can fit into your pan.
So I decided to just make the shrimp portion and skip the grits. Blasphemy, I know. But even though it wouldn't be as fun, I would still have a great tasting, flavorful shrimp dish for dinner.
And you know what? It actually turned out to be fantastic! The flavors used in this recipe really pop, and the shrimp is especially delicious because you cook it in bacon fat.
Don't worry – I have the right nutrition information for this dish, including the bacon fat that you cook the shrimp in. It's still low in calories. Just don't make it a habit to cook with bacon grease every night and you'll be just fine.
You can serve this on top of white or wild rice and it would be great. If you're splurging, go ahead and whip up some grits for yourself – sometimes you just have to indulge!
Ingredients
1 pound shrimp, peeled and deveined
4 slices bacon, chopped
2 tablespoons lemon juice
2 tablespoons chopped parsley
1 cup thinly sliced scallions
1 large clove garlic, minced
Instructions
Chop your bacon up into about 1/2 inch x 1/2 inch pieces. Put all the pieces of bacon into a cold cast iron pan.
Put the pan on medium heat and let it get hot along with the bacon. The bacon will start to sizzle. Fry the bacon until it becomes crispy, then remove the bacon and put it on a dish lined with paper towels to absorb some of the grease. Leave the rendered bacon fat in the pan.
Now add your shrimp to the same pan and cook until all of the shrimp turn pink.
Then add the lemon juice, parsley, scallions, and garlic. Saute for about 2-3 minutes and you're finished.
Nutrition Facts
Recipe yields 2 servings. Nutrition information is for 1 servings.
Calories: 418
Fat: 22g
Carbohydrates: 2g
Fiber: 0g
Protein: 50g