Shrimp and Cauliflower "Grits"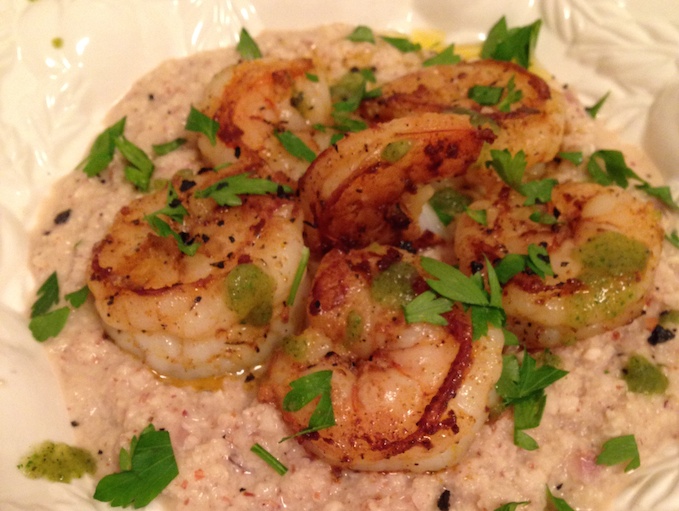 This recipe comes to you courtesy of my brother, who felt inspired to make a shrimp and grits dish after reading my recipe for shrimp with bacon and scallions. The thing is, he didn't want to make the grits either, because they're loaded with butter and cheese – not an easy food to fit into your diet. So instead of making real grits, he decided to make "grits" using riced cauliflower.
Making grits with cauliflower is very similar to the idea of mock mashed potatoes, where instead of using actual potatoes, you use mashed up cauliflower to mimic the texture. It works surprisingly well, and mock foods like this have become staples for those who follow low-carb diets.
Though I don't follow a low-carb diet myself, I still don't relish the idea of eating massive amounts of fat and calories from your typical bowl of grits. I was excited to try the much, much lighter cauliflower version, and I have to say, it was delicious and very satisfying.
What's great about cauliflower is that you get to eat an absolute ton of it for an incredibly low amount of calories. Cailiflower is also very nutritious, loaded with fiber, vitamin C, and phytonutrients.
Due to great seasonings, the shrimp in this dish are very flavorful and have a nice kick to them that you'll really enjoy if you like spicy foods.
Ingredients
Grits
1 tablespoon butter
3 cups riced cauliflower (one head of cauliflower should be more than enough)
1/2 small onion, diced
2 1/2 cups chicken broth
1 1/4 cup almond meal / flour
Sea salt and ground pepper, to taste
Shrimp
1 tablespoon olive oil
1 pound large shrimp, peeled and deveined
1/2 small onion, chopped
2-3 cloves garlic, crushed
1 tablespoon lime juice
1/2 teaspoon sea salt
1/2 teaspoon coriander
1/2 teaspoon cumin
1 teaspoon paprika
1/4 teaspoon cayenne
Instructions
Grits
Rice the cauliflower using a cheese grater or food processor. If you're using a food processor, just pulse it a few times until the cauliflower takes on a rice-like consistency.
In a medium saucepan over medium heat, add the butter, wait until it melts, and then add the diced onion. Saute for about 2-3 minutes, then add the riced cauliflower and stir it up to combine everything.
Add the chicken broth to the pan and bring to a boil. Then add the almond flour, sea salt, and pepper. Stir it up, turn the heat down, and cover the pan. Simmer for about 20 minutes, stirring occasionally. Set aside when finished.
Shrimp
Mix the seasoning ingredients (from sea salt to cayenne in the ingredients list) together in a bowl and toss with the shrimp.
Heat the olive oil in a large skillet over medium heat. Add the shrimp, onion, and garlic to the skillet and cook until the shrimp turn pink.
Add the lime juice and cook for another couple minutes. Top the grits with the shrimp. If you want to get fancy, sprinkle the dish with some fresh parsley.
Nutrition Facts
Recipe yields 4 servings. Nutrition information is for 1 serving.
Calories: 391
Fat: 23g
Carbohydrates: 18g
Fiber: 7g
Protein: 34g