Optimum Nutrition Whey Protein: A Detailed Review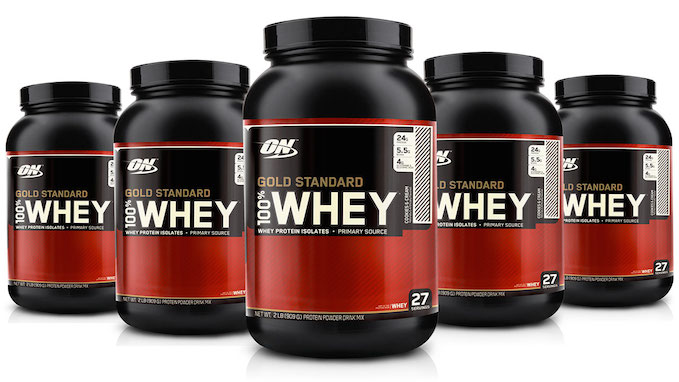 If you've read my article on protein shakes, you should know that I don't think they are required for building muscle.
While getting enough protein is undeniably important, it doesn't really matter whether it comes from protein shakes, whole foods, or a combination of the two.
In fact, you ideally don't want to rely on protein shakes for the majority of your protein…
All of that being said, there are still many circumstances where you may want to include protein shakes in your diet.
They are a highly convenient, cheap source of protein – and are especially useful when your protein requirements are on the higher end, or if you have certain dietary restrictions.
However, just as with most other supplements, not all protein shakes are equal.
Some of them contain lower quality proteins, are unreasonably expensive, or taste absolutely awful.
Even worse, some brands of protein shakes were recently found to contain high levels of arsenic, but I'll get to that more in just a second…
Now, personally, I have used the same brand of protein for a long, long time now.
Verging on a decade, in fact.
Yes, during that period of time I have tried various other brands – but I have always returned to my tried and true favorite.
And that would be Optimum Nutrition Gold Standard Whey Protein.
For this review, I am going to be thoroughly evaluating this brand of protein based on 5 specific criteria: taste, mixability, quality, nutrition, and price.
How Does It Taste?
If you are at all familiar with protein shakes, you probably know that some of them are almost undrinkable.
Yup, some brands of protein – which I won't publicly shame here – have a distinctly chemical aftertaste, which makes the process of chugging them down pretty unpleasant…
This isn't the case with Optimum Nutrition Gold Standard Whey Protein.
Believe it or not, these shakes are extremely easily to drink.
They don't make you gag, and they don't leave you with a rancid aftertaste (or, worse, those protein shake burps).
Now I don't want to overstate this: they don't taste like milkshakes.
But they are more than palatable to drink – and if you are like me, you will actually start enjoying the taste.
This is especially true if you mix them with milk, but they even taste fine stirred or shaken with just water.
I have tried most of the flavors, but I personally love the Double Rich Chocolate Flavor most – followed by the Milk Chocolate and Cookies & Cream flavors.
Taste Rating: 5/5
How Well Does It Mix?
For me, the ability to easily mix protein is a major factor in my assessment of the supplement.
Yup, if it doesn't mix easily with a spoon, or at the very least in a shaker, I'm simply not going to buy it.
When you take protein shakes, convenience is of paramount importance – so you don't want your shakes to require a full session in the blender to mix properly.
Well, in this respect, Optimum Nutrition Gold Standard truly excels.
In fact, this was the reason I initially switched to this brand all those years ago – because of how well it would mix with just water and a spoon.
You can literally dump a scoop or 2 into your shaker, and shake it gently for less than 10 seconds, and you'll be left with a silky smooth, thoroughly-mixed protein shake.
Mixability Rating: 5/5
How Is The Quality Of The Protein Blend?
In short, this is extremely high quality stuff – especially for such a mainstream supplement.
Just take a look at exactly what's in it: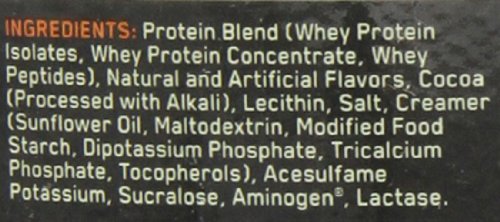 As you can see, it contains a blend of both whey concentrate and whey isolate – however, the blend includes more whey isolate than concentrate.
Without going into too much detail about the differences between whey concentrate and whey isolate here, I will say that this particular blend is suitable for most people, and that the protein itself is of a high quality.
You will also notice that it does contain artificial sweeteners, such as Sucralose.
For most, this probably isn't a big deal – but as far as being completely natural, it does lose a few points in that respect.
Quality Rating: 4/5
How Does It Look Nutritionally?
In addition to the actual quality of the blend, it's important to consider the overall macronutrient profile as well.
Take a look at the following chart: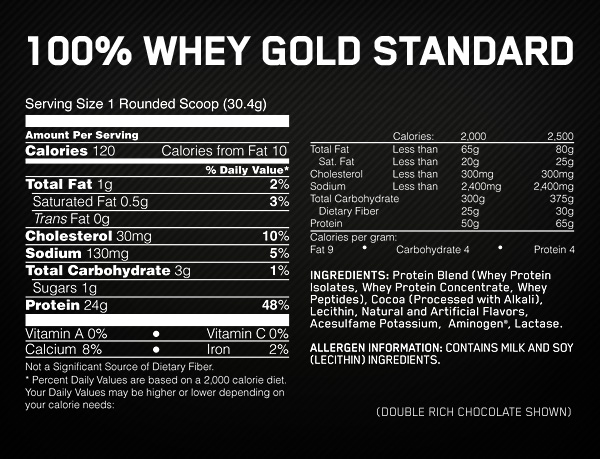 I would say that this is about as good a nutritional profile as you could hope for in a protein shake.
The total amount of protein, per scoop, is high, coming in at 24 grams.
On the other hand, the amount of fats and carbs in each scoop is very low (1 gram and 3 grams, respectively).
Finally, as you can see, each scoop only has 120 calories.
In my opinion, this is a major benefit of this particular brand of protein: it doesn't have lots of other crap in it that bulks out the total number of calories you're drinking.
When you drink a protein shake, you are drinking it for the protein content, and typically want as few additional fats or carbs as possible.
You want to save those for more enjoyable foods, right?
In this respect, Optimum Nutrition Gold Standard comes through with flying colors.
It really is about as close to pure protein as you're going to get.
Nutritional Rating: 5/5
How Much Does It Cost?
Finally, let's see if the price is right.
Even if it is the best protein supplement on the market, you're probably going to give it a miss if it's prohibitively expensive.
Thankfully, Optimum Nutrition Gold Standard is fairly priced.
It's not cheap, but it is in line with the price of other protein shakes – and I believe that you are getting more than your money's worth with this one.
You'll find that the price ranges from about $50-80 for a 5 lbs tub (74 servings).
For the sake of convenience, I typically order it directly here.
At the end of the day, this is far cheaper than getting all of your protein from most other sources (chicken, beef, etc), on a per gram basis.
Price Rating: 4/5
In Summary
Look, it's no secret that I really love this particular brand of protein…
It is almost always my top recommendation when someone asks me which protein shake they should buy.
Finally, there is one other thing that I'd like to mention…
In 2010, Consumer Reports conducted a study testing various different popular protein powders for heavy metals that might be poisonous.
The results were disturbing, to say the least…
It turns out that many of the biggest protein supplement companies, like EAS and Muscle Milk, had very high levels of Arsenic in their shakes.
Just take a look: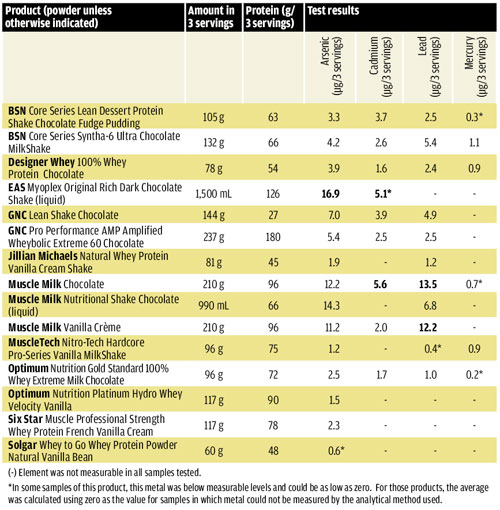 You may also notice that Optimum Nutrition had some of the lowest levels of these chemicals in their blends – far lower than any of the other leading protein supplement companies.
For me, this was just the icing on the cake; a confirmation that Optimum Nutrition really was a top-notch company, and one that truly cared about the quality of their product.
I would definitely recommend picking up a tub and trying it out for yourself.