Nuts 'N More Peanut Butter: A Detailed Review
How many of you have eaten an entire jar of peanut butter?
Come on, raise your hand?
Believe me, no judgement here. It's pretty damn easy to do – if armed with just a spoon and lack of dietary restraint.
And that is because peanut butter tastes great.
Most of us grew up loving it as kids, and that love persists to this day.
The problem with regular peanut butter, however, is that it just isn't that great for you.
Yes, it has some protein, but it is mostly loaded with fat and sugar, depending on which brand you buy.
Let's take Jif, for instance, which is arguably the most popular brand of peanut butter in the United States.
In 2 table spoons of Jif, you are taking in 190 calories – which is comprised of 8 grams of carbs, 7 grams of protein, 16 grams of fat, and a tiny amount of fiber.
Not the worst thing in the world for you, but it could definitely be better…
And over the years, many companies have tried to create a more healthy version of peanut butter.
One that is diet friendly, and packs in more protein in every serving.
The problem is that most of these have tasted rather underwhelming at best.
I won't point any fingers, but I will say that up until this last year I hadn't tasted a healthier alternative to peanut butter that would draw me away from the real thing.
Enter The Shark Tank
I'll admit it, I watch a lot of Shark Tank.
For those that aren't familiar, Shark Tank is a show on ABC where aspiring entrepreneurs attempt to get investment deals form a group of wealthy investors (known as the sharks).
I love watching all of the product pitches – ranging from genuinely innovative to absolutely ridiculous – and of course the banter between Mr. Wonderful, Mark Cuban, and the other sharks.
The thing is, there had never been a product featured on Shark Tank that I've actually rushed out and bought.
That all changed on a cold February night in 2013…
I was kind of half watching Shark Tank one night during dinner, when I heard a word that made me perk up and pay attention.
Peanut butter
Ok Shark Tank, you have my attention, now what have you got for me?
As I turned to focus on the TV, I saw three young people who were enthusiastically pitching a peanut butter product to the sharks.
Their product, Nuts 'N More Peanut Butter, supposedly had double the amount of protein as regular peanut butter, less fat, hardly any carbohydrates, and was packed with tons of fiber.
And, somewhat audaciously, they claimed that it actually tasted good. As good as regular peanut butter!
The sharks were invited to try it, and it didn't fail to impress. I won't spoil the rest of the episode, but you can watch it here to see whether or not they got an investment.
After watching the episode, I knew that I needed to try this stuff – so I went right over to Amazon to check it out.
Turns out that Nuts 'N More makes more than just peanut butter – they also make almond butter, chocolate peanut butter, chocolate almond butter, etc – all with very similar nutritional profiles.
Being a purist, I opted to order the regular peanut butter first; if that was able to win me over, I would be open to the others.
So how did it stack up to the hype?
My Nuts 'N More Peanut Butter arrived just 2 days later.
The packaging was attractive – boasting that it contained 14 grams of protein, organic flax, and had no sugar added.
So, of course, the first thing that I did was go through each of the ingredients.
Turns out it didn't actually have very many ingredients, which, in a way, is often a good sign.
In fact, it only contains Peanuts, Organic Flax, Whey Protein, Natural Sweetener (Xylitol), Peanut Oil, and Natural Extract.
Xylitol is a common natural sweetener, that has no known toxicity to humans. All of the other ingredients were healthy, and needed no further exploration.
What about the specific nutrition?
I've gotta give it to these people…this stuff has a fantastic nutritional profile.
Here is exactly what is in it: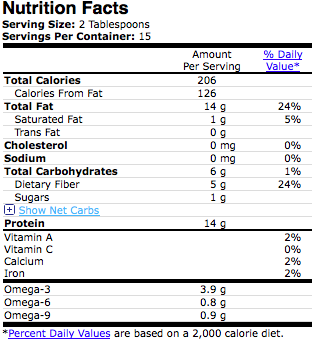 As you can see, this is no regular peanut butter…
While 2 tablespoons has about the same number of calories as a regular brand like Jif, the macronutrient content is very different.
It has a massive 14 grams of protein, 5 grams of fiber, only 1 gram of net carbs, and 12 grams of fat.
It literally beats regular peanut butter in every respect – at least nutritionally…
But how does it taste?
Yes, the taste test.
As I mentioned before, all of the previous attempts at healthy, high-protein peanut butter that I'd tasted hadn't lifted up to their hype.
Would this be different?
I popped open the container, eager to find out – only to realize that I had to mix it up first.
Like many other natural peanut butters, Nuts 'N More is sold with the oil separated, meaning that you have to stir it up yourself.
No problem – I grabbed a spoon, and went to work.
And just 2 minutes later, I was finally ready to taste it.
It only took me about 10 seconds to determine that this stuff tasted great…
Not great for healthy peanut butter, but great for any peanut butter!
It was sweat, creamy, easy-to-eat, and didn't have that intense grittiness that you sometimes find with natural peanut butters.
I knew then and there that I'd found a winner – and it has become a staple of my diet ever since, all but replacing regular peanut butter.
Is there anything else?
You want the dirt, right?
Well, I'm sorry to disappoint you – this stuff doesn't really have any major negatives, as far as I can see.
The only downside is that it is more expensive than regular peanut butter.
A 16 oz jar of it will cost you $8.99 on Amazon.
Compare this to a 16 oz container of regular Jif peanut butter, which you can get most places for around $3-4.
Yes, you are definitely paying for a premium, healthy peanut butter when you buy Nuts 'N More – but you are also getting something that is much, much better for you.
So, if you're a peanut butter nut like me, I urge you to go out and get yourself a jar of this gooey goodness to try.
You can get it at most GNCs, or order it directly from Amazon here.
Also, I should mention that I have now tried all of the flavors – and while they all taste really good, I would still have to say that the regular ol' peanut butter is my favorite (followed closely by their almond butter).
Just try not to eat the whole jar (but I won't fault you if you do).