Mushroom Pork Chops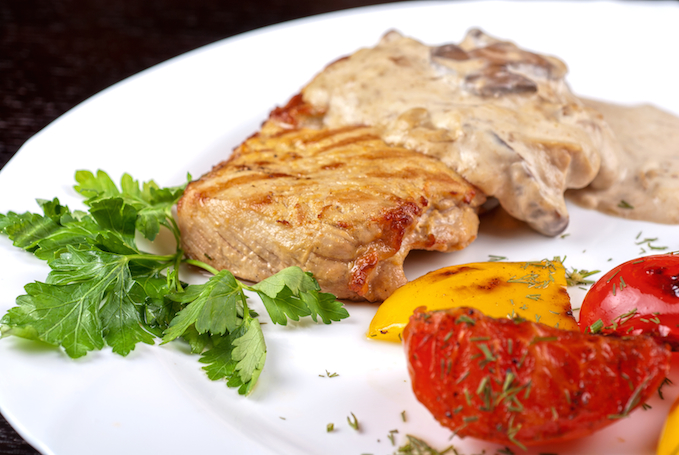 A friend of mine was stopping by for dinner and he told me that he'd been craving pork chops. So, pork chops it was. Aside from bacon, I haven't been cooking much pork lately – not for any particular reason, it had just fallen out of the rotation. I was excited to try something new. But, as usual, I had a long day at work and wanted to make something quick, easy, and tasty.
Like many of my favorite weeknight recipes, this recipe only involves a short list of ingredients: pork chops, mushrooms, an onion, garlic, and a half can of cream of mushroom soup. Prep work is minimal and after you brown the chops, you just leave it simmering for 20 minutes or so until it's done.
The pork chops come out nice and tender, topped with a flavorful creamy mushroom sauce that's loaded with fresh mushrooms and onions. Really delicious. I made mashed potatoes on the side and the sauce complemented the potatoes perfectly. This is a very satisfying, hearty meal with ample servings of protein and vegetables.
Ingredients
2 boneless pork chops (about 1 pound in total)
1 large onion, chopped
3 cloves garlic, crushed
8 ounces fresh mushrooms, sliced
1/2 can cream of mushroom soup (typical can size is 10.5 ounces)
1 tablespoon olive oil
Instructions
Heat a large skillet (preferably cast iron) over medium-high heat. While it's heating up, season the pork chops on both sides with salt and pepper.
Add a tablespoon of olive oil to the pan, give it a few seconds to heat up, and then saute the crushed garlic in the olive oil for 30-60 seconds. Now place the pork chops in the skillet and brown them on both sides, about 2-3 minutes per side.
After the chops have browned, add the onions and the mushrooms and let them cook for a minute. Then pour the half can of cream of mushroom soup over the pork chops.
Cover the pan, turn the heat down to medium-low, and cook for 20-30 minutes, or until the pork chops reach 150 degrees.
Nutrition Facts
Recipe yields 2 servings. Nutrition information is for 1 serving.
Calories: 599
Fat: 35g
Carbohydrates: 15g
Fiber: 3g
Protein: 52g