Mac and Cheese with Chicken and Broccoli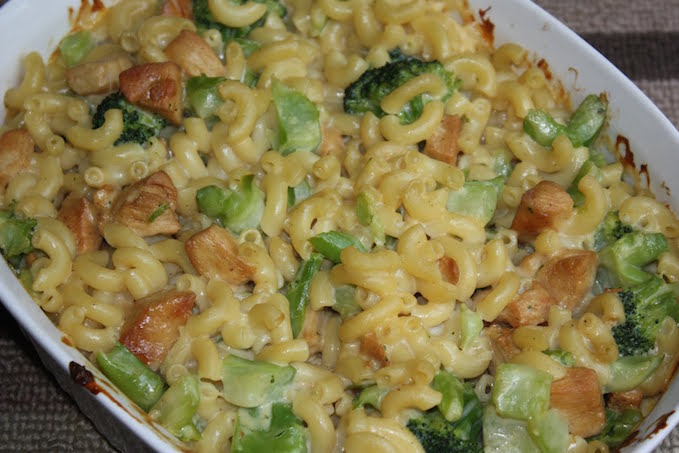 I can confidently state that I have never, ever met a person who doesn't love a good macaroni and cheese. In fact, I don't even believe these mac & cheese deniers exist. As human beings, it seems to be part of our DNA. We laugh, we cry, we eat (and love) macaroni and cheese.
Mac and cheese was likely one of your favorite dishes when you were a kid, and like anything you learn to love as a child, it finds a place deep within your subconscious and stays with you throughout adulthood. That's why you'll even find this classic dish on the menus of 5-star restaurants, because no matter how fancy our tastes may become as we grow older, a plate of macaroni and cheese will always bring a smile to our faces and a warmth to our hearts.
But enough of my love affair with mac and cheese. It's time to face the cold, hard truth: mac and cheese makes you fat.
OK, OK, not really. If you've been following Caliber Fitness, you know that we're big fans of flexible dieting, and that you can still fit mac and cheese, and other foods you love, into your diet while losing weight. It's just that it can be especially difficult to control portion sizes with a food that's as high in calories as your typical mac and cheese dish.
Also, most mac and cheese recipes don't have a lot of protein in them. The only protein comes from the cheese, resulting in a dish that's only about 15% protein.
This recipe changes all of that. To be fair, it's not your classic mac and cheese, because it also has chicken and broccoli in it, but it tastes amazing. It's based on a recipe from Rachel Ray, so it's quick and easy to make, but I modified the original recipe so that it's much lower in fat, and much higher in protein. The result is a delicious dinner that has great macros and easily fits into anybody's diet plan.
It has several more ingredients than my recipes usually do, but it's actually really easy to make and well worth it. Let's get to it!
Ingredients
1 tablespoon extra virgin olive oil
1 pound chicken breast, chopped
Salt and pepper
1 medium onion, chopped
6 ounces macaroni elbows
2 cups raw broccoli florets
1 1/2 tablespoons butter
1 1/2 tablespoons all-purpose flour
1/4 teaspoon cayenne pepper
1/2 teaspoon paprika
1 cup whole milk
1/2 cup chicken stock
1 cup yellow sharp Cheddar, shredded
1 tablespoon Dijon mustard
Instructions
Start to boil a pot of water so it's ready for when you need it.
Put a medium to large skillet over medium heat. Once the pan is hot, add the olive oil, then the chicken. Salt and pepper the chicken right after it goes into the pan (this saves time because you don't have to do it before). After sautéing the chicken for 2-3 minutes, add the onions, and continue cooking until the chicken is cooked through, about 5-7 minutes. Take the chicken and onions off the heat and put aside.
Now, salt the pasta water and pour the macaroni elbows in. Cook for 4 minutes, then add the broccoli florets and cook for another 3. You want to cook the pasta until it's al dente, but no more.
Meanwhile, while the pasta is cooking, melt the butter in a medium pot over medium heat. Once the butter has melted, add the flour, cayenne, and paprika, and whisk it all together until the roux is bubbling. Cook it like this for about a minute while whisking, then whisk in the milk and stock. Raise the heat to bring the sauce to a boil, then turn down the heat and simmer for 5 minutes or so, until the sauce thickens.
Drain the pasta and broccoli and place it back into the big pot, then add the cooked chicken and onions to the pot as well.
To finish the sauce, add the cheese to the simmering sauce and stir to melt it in. Then stir in the Dijon mustard. Season the sauce with salt and pepper.
Finally, pour the cheese sauce over the chicken, broccoli, and pasta mixture and stir to combine.
Nutrition Facts
Recipe yields 4 servings. Nutrition information is for 1 serving.
Calories: 530
Fat: 21g
Carbohydrates: 43g
Fiber: 3g
Protein: 42g