Low Carb Garlic And Parmesan Chicken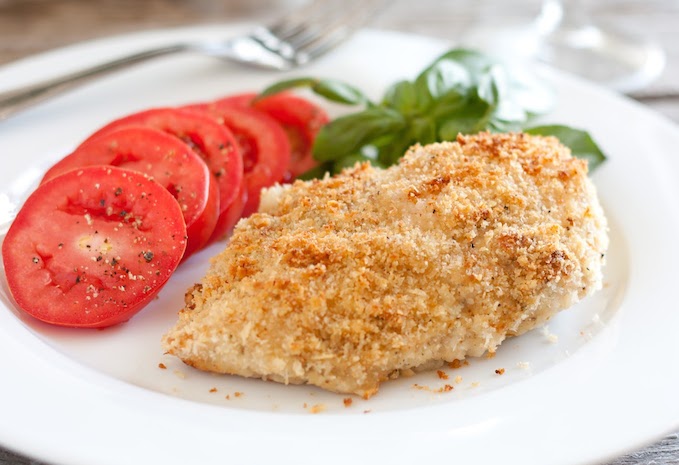 I love quick and easy baked chicken dishes. Just like the low carb chicken parmesan, this dish requires a minimal amount of prep work, so you can put it together quickly and then just toss it in the oven. Garlic and parmesan are two of my favorite ingredients and both flavors come through strongly in this dish.
The key to maximizing the flavor in this recipe is the garlic-infused oil, which you make quickly as part of the preparation. The chicken also has a great crispy exterior from the parmesan and breadcrumbs, reminiscent of fried chicken cutlets, but without all the additional calories.
Aside from the chicken, most people have all of the ingredients for the dish in their kitchens at all times – olive oil, garlic, parmesan cheese, and bread crumbs. This makes it a very convenient recipe to have on hand when you're short on time and can't make it out to the grocery store.
Couscous or quinoa make good side dishes for this chicken.
Ingredients
1 lb boneless skinless chicken breasts
1/4 cup extra virgin olive oil
4-6 cloves garlic, crushed
1/4 cup Italian-seasoned bread crumbs
1/4 cup grated parmesan cheese (the cheap kind that comes in the green bottle)
Instructions
Preheat your oven to 425 degrees F.
While the oven is heating up, put the olive oil and garlic into a small sauce pan. Put the pan over medium-low heat and wait for the garlic to start bubbling around the edges. Turn the heat down to low and let the garlic bubble in the oil for about 2 minutes. Then pour the garlic and oil mixture into a shallow bowl.
In a second shallow bowl, add the bread crumbs and parmesan cheese and mix them up with a fork.
Dip the chicken breasts in the garlic-infused oil and make sure to cover all areas of the chicken. Then transfer the chicken to the bread crumb mixture and coat both sides evenly. Some people use tongs for this, but I just prefer to use my hands. Transfer the coated chicken to a baking dish.
Finally, put the chicken in the oven and bake for 35 minutes.
Nutrition Facts
Recipe yields 2 servings. Nutrition information is for 1 serving.
Calories: 474
Fat: 21g
Carbohydrates: 10g
Fiber: 1g
Protein: 60g