Honey Mustard Chicken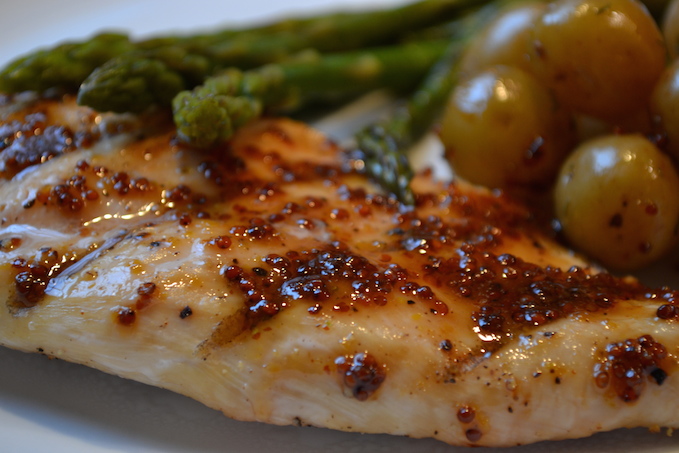 It doesn't get much easier than this, guys. This week's recipe is a delicious honey mustard chicken with a short list of ingredients and virtually no preparation needed. It's the perfect dish to make for new cooks who are still getting comfortable in the kitchen.
When I first made this dish, I was really surprised by how flavorful the chicken was. I guess because I didn't marinate it beforehand, I didn't think that the honey mustard flavor would stand out. But I was wrong! The flavor was actually quite bold – in a good way. The key to great flavor in this dish is to use a good Dijon mustard instead of yellow mustard.
I served this dish with a side of vegetables and couscous to create a healthy, balanced meal.
Ingredients
1 pound of boneless skinless chicken breasts
1/4 cup honey
1/4 cup Dijon mustard
1/2 teaspoon dried basil
1/2 teaspoon paprika
1/4 teaspoon dried parsley
Salt and pepper
Instructions
Preheat your oven to 350 degrees F.
Season both sides of the chicken breasts with salt and pepper. Place the chicken breasts on a lightly greased baking pan. I use Pam cooking spray to grease the pan, but you could also use a little butter or oil, or even just non-stick aluminum foil.
In a small bowl, mix the honey, mustard, basil, paprika, and parsley. Mix it well. Then pour half this mixture over the chicken breasts, distributing it evenly over the chicken with a spoon or fork.
Put the chicken in the oven and cook for 30 minutes. Then take the chicken out, flip the breasts over to the other side, and pour the remaining honey mustard mixture over the chicken. Bake for another 15 minutes and you're done!
Nutrition Facts
Recipe yields 2 servings. Nutrition information is for 1 serving.
Calories: 398
Fat: 2g
Carbohydrates: 35g
Fiber: 0g
Protein: 52g