Ground Beef With Onion, Garlic, Spinach, And Eggs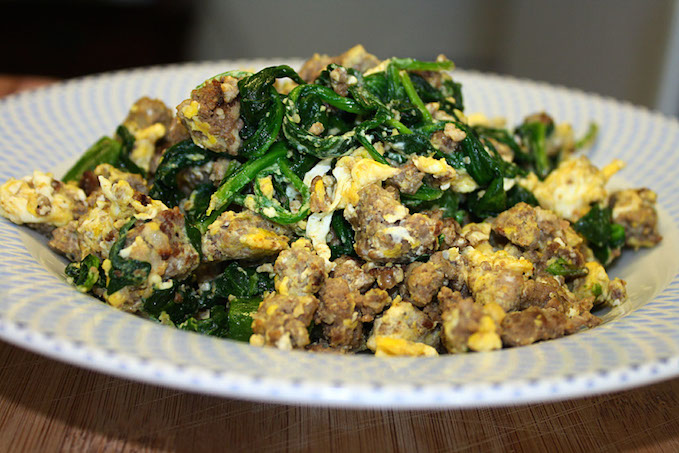 This is a wonderful low carb recipe that's very satisfying and has lots of flavor. Because of the relatively high protein and fat content in the beef and eggs, it keeps you full for a long time, and the hefty amount of spinach makes you feel good about eating your greens. It's also very easy and quick to make, earning it a spot in my regular dinner rotation.
I originally found this recipe on Dana Carpender's low carb blog called Hold The Toast. Apparently this dish is based on a San Francisco dish called Joe's Special. While Dana likes to use ground chuck (80/20), I always make it with ground sirloin (90/10). Not only is it lower in fat, I also think it tastes better.
I like to eat this meal with a side of white rice and topped with sriracha sauce.
Ingredients
1 lb ground sirloin
1 large onion, chopped
3-4 cloves garlic, crushed
10 oz box of frozen spinach
4 eggs
Salt and pepper
Instructions
Cook the frozen spinach in the microwave according to the directions on the package. Usually this is just placing the spinach in a covered container and microwaving it on high for 4-5 minutes.
Put a large nonstick skillet over medium heat. Add the ground beef and start breaking it up with a spatula. Continue breaking up the ground beef as it cooks.
After the ground beef is partially cooked and some fat has cooked out of it, add the onion and garlic.
While the beef is cooking, scramble the eggs in a bowl and put them aside.
The beef is finished cooking as soon as all the pink color is gone. When this happens, add the microwaved spinach and mix it all up. Then pour the scrambled eggs on top of the beef mixture, and continue mixing it up until the eggs have cooked completely.
Add salt and pepper to taste.
Nutrition Facts
Recipe yields 2 servings. Nutrition information is for 1 serving.
Calories: 622
Fat: 33g
Carbohydrates: 14g
Fiber: 3g
Protein: 62g