Easy And Delicious Turkey Burgers At Home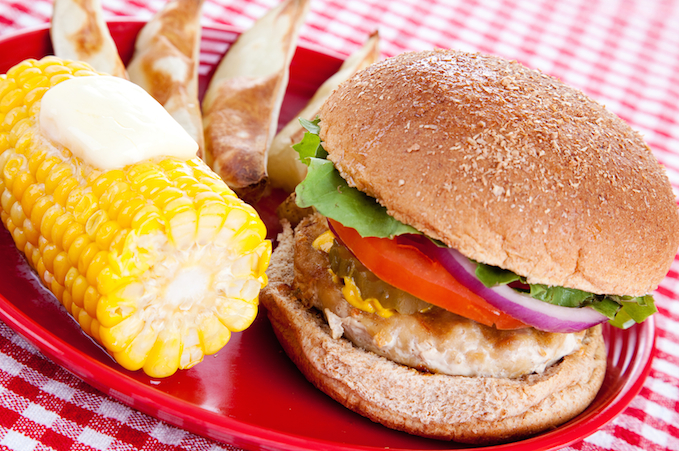 A good burger has to be one of my favorite foods on the planet. In fact, if you asked me to choose my favorite meal of all time, I'd give you my answer without any hesitation: a cheeseburger (fast food style), fries, and a milkshake. In other words, take me to Shake Shack and I'm a happy camper (as long as I willfully ignore how many calories are actually in that kind of meal).
The problem with burgers is that they're extremely high in calories, and although it's not impossible, it can be challenging to include them in a diet focused on fat loss.
Not so with these turkey burgers. These are delicious protein bombs that are packed with flavor and not only easy to make, but also easy to include in your diet. That's because they're made with mostly lean turkey and vegetables.
Diced onions, celery, and red pepper add great flavor and texture to the burger, while also making them more visually appealing (turkey burgers don't look nearly as good as beef burgers without adding a little something extra).
You can put these burgers on the grill, but I live in an apartment building in NYC where that really isn't an option. Also, I like to be able to cook burgers all year long. For these reasons, I've learned to fully embrace the cast iron skillet, and I suggest that you do as well. Cast iron skillets are cheap, ridiculously durable, and perform amazingly well for searing meat.
Ingredients
1 pound ground turkey (I use 93/7, but 90/10 is also good)
1 large onion, finely chopped
1 stalk celery, finely chopped
1 red pepper, finely chopped
1 teaspoon dried thyme
2 tablespoons barbecue sauce
1 teaspoon hot sauce
1 tablespoon Worcestershire sauce
4 teaspoons vegetable oil
Instructions
Combine all the ingredients, except for the vegetable oil, in a large bowl and mix well until the mixture looks uniform throughout. Use the mixture to form 4 burger patties.
Put your cast iron skillet over medium high heat and wait a few minutes for the pan to get nice and hot. Add 2 teaspoons of vegetable oil. I like to pick up the skillet (with heat-proof gloves, of course) for a couple seconds and move it around, allowing the oil to coat the entire bottom of the pan for even distribution.
Wait 30-60 seconds for the oil to heat up, then place 2 burger patties in the skillet. Now, don't touch them for 5 minutes. You want the burgers to get nicely seared, even a little charred, on the bottom before flipping them over. After 5 minutes is up, flip the burgers carefully and cook for another 5 minutes.
Remove the cooked burgers from the skillet, add the remaining 2 teaspoons of oil, and repeat the process to cook the last 2 burgers.
Optional: If you want cheese on the burgers, then for the final minute of cooking, top the burgers with whatever cheese you like and cover the skillet to melt the cheese quickly.
Nutrition Facts
Recipe yields 4 burgers. Nutrition information is for 1 burger.
Calories: 237
Fat: 13g
Carbohydrates: 8g
Fiber: 1g
Protein: 23g