Chicken Stir-Fry With Peanut Sauce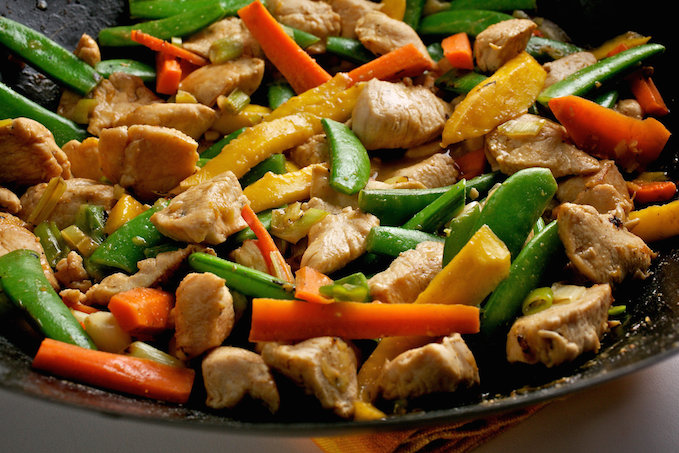 Chicken stir-fry with peanut sauce is one of the recipes I cook most often during the week. It's one of those recipes that doesn't really taste like you're eating healthy, but you are! You get a ton of protein, a hefty serving of healthy vegetables, and it goes great with either white or brown rice if you want a higher-carb meal.
It also tastes delicious! The peanut sauce gives the dish a little bit of sweetness and creaminess, while the chopped up peanuts add some crunch. You won't be disappointed with this recipe.
Ingredients
2 tsp vegetable oil
1 lb chicken breast, cut into cubes or strips for stir-fry
1 bag of frozen mixed vegetables (I use a Chinese stir-fry mix)
1/4 cup peanut sauce (I use the San-J brand, but any kind will do)
1/4 cup chopped peanuts
Fresh ground pepper
Instructions
Heat the vegetable oil in a large skillet over medium heat. Sauté the chicken until cooked through (10-15 minutes), moving the chicken around with your spatula every couple minutes.
Meanwhile, while the chicken is cooking, microwave the frozen vegetables. I usually microwave them for about a minute less than the bag recommends, finishing them up when I add them to the skillet. You can also use fresh vegetables of course, but I like the frozen bags because it takes less time to prepare.
After the chicken is fully cooked, add the microwaved vegetables, peanut sauce, and chopped peanuts to the skillet. Mix it all up, add a little freshly ground pepper, and you're done!
Nutrition Facts
Recipe yields 2 servings. Nutrition information is for 1 serving.
Calories: 561
Fat: 25g
Carbohydrates: 22g
Fiber: 6g
Protein: 61g