Broiled Steak With Spicy And Sweet Onion Garlic Marinade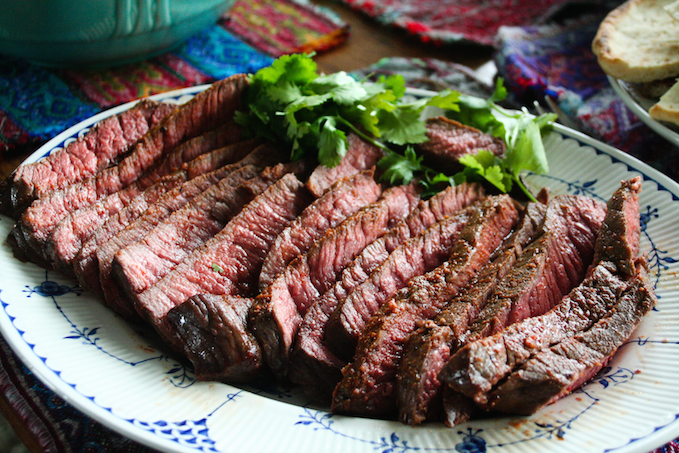 Steak is great any way you have it, but sometimes you want to add a little more flavor for diversity, and using good marinades is the perfect way to do that. Unfortunately, many marinades require you to marinate the meat several hours before it's ready to cook.
This marinade tastes great and adds a ton of flavor without requiring a lot of time. In fact, it takes just a couple of minutes to prepare, and another couple of minutes to marinate the steak. Easy and fast, exactly how I like my weeknight recipes.
Onion, garlic, sesame oil, and soy sauce form the base of this marinade. Tabasco sauce and pepper are used to spice it up, while a little bit of Splenda adds sweetness.
Ingredients
1/2 medium onion
4 cloves of garlic, peeled
1/4 cup soy sauce
2 tbsp Splenda
1 tsp black pepper
A few dashes of Tabasco sauce
1 tbsp sesame oil
1 lb beef top sirloin, 1/2 inch thick (or another lean cut of beef)
Instructions
Put the onion, garlic, soy sauce, Splenda, Tabasco sauce, and sesame oil into a food processor and run it until the onion is pulverized.
Put the steaks on a plate and pour the marinade on top. Wait 1-2 minutes and flip the steaks on the plate, allowing the marinade to cover both sides. Wait another 1-2 minutes.
Place the steaks on a broiler rack in the oven and broil for about 4-5 minutes. Pull the steaks out of the oven, top with some of the remaining marinade, flip the steaks, and then use all of the remaining marinade on the uncooked side. Put the steaks back onto the broiler rack and cook for another 4-5 minutes.
Nutrition Facts
Recipe yields 2 servings. Nutrition information is for 1 serving.
Calories: 386
Fat: 16g
Carbohydrates: 5g
Fiber: 1g
Protein: 52g