Bacon Wrapped Chicken Stuffed With Asparagus And Mozzarella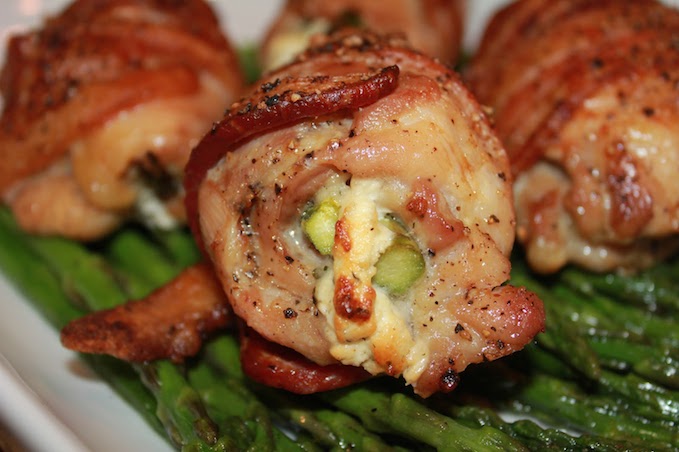 This recipe is unbelievably good. It contains a few of my favorite ingredients of all time, including bacon, mozzarella, and asparagus. I love bacon (as if I needed to tell you that), so it's about time I posted a recipe that includes it as one of the main ingredients.
Despite the richness of the ingredients, this recipe is surprisingly low in calories. It's loaded with protein, low in carbs, and the asparagus gives you a good healthy serving of veggies. It's also very easy to make, one of my primary requirements when it comes to weeknight recipes. Just a few minutes of prep work and then you just pop it in the oven.
Ingredients
1 lb boneless skinless chicken breast cutlets
16 spears of asparagus
1 cup reduced fat mozzarella cheese
8 slices bacon
Salt and pepper
Instructions
Preheat your oven to 400 degrees.
While the oven is heating up, prepare the chicken cutlets. I buy chicken cutlets from the butcher that are already divided and pounded to about 1/4 inch thickness, but if you're buying whole chicken breasts, you'll need to do this yourself. Just put the boneless, skinless breasts on top of a layer of plastic wrap, then put another piece of plastic wrap on top. Pound the chicken breasts with the smooth end of a meat tenderizer until they're about 1/4 inch thick all over. Then divide the chicken breasts into 4 pieces (if you have 2 breasts, this just means cutting each breast in half).
Salt and pepper both sides of the chicken cutlets.
Put 4 asparagus spears in the center of each of the chicken cutlets. Then top the asparagus with the mozzarella cheese, dividing it evenly between the chicken cutlets. I actually use a little less than 1/4 of the cheese so I have a little to sprinkle on top when it's all cooked, but you can do whatever you like.
Now it's time to roll up the cutlets. Roll each chicken cutlet up tightly, then wrap each cutlet with two slices of bacon. Use toothpicks if you're having trouble keeping everything together, but I find that the bacon tends to hold the chicken together really well on its own.
Line a baking sheet with aluminum foil and lightly spray with a nonstick cooking spray like Pam. Place all 4 chicken rolls on the baking sheet, then pop it into the oven.
Cook at 400 degrees for 45 minutes, turning the chicken over halfway through. Then increase the oven temperature to 500 degrees to further crisp up the bacon. Closely watch the chicken at this time to make sure it's not burning.
When the bacon is crisp, take the chicken out of the oven and enjoy!
Nutrition Facts
Recipe yields 4 servings. Nutrition information is for 2 servings.
Calories: 549
Fat: 22g
Carbohydrates: 7g
Fiber: 3g
Protein: 80g