A Review Of Quest Protein Bars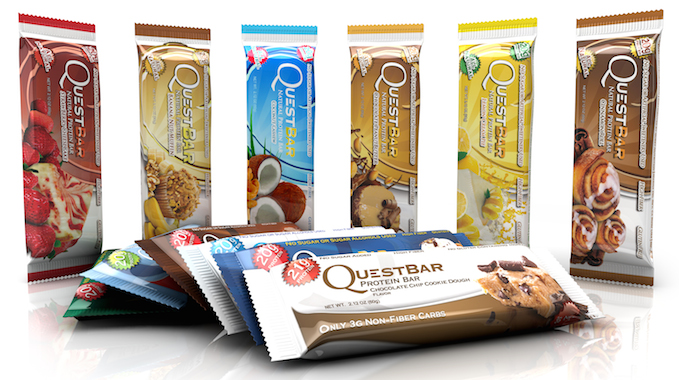 One of the biggest challenges for many of my clients is getting enough protein. Even if they're eating protein with breakfast, lunch, and dinner, it can be difficult for them to hit the number I recommend. This especially applies when on a cutting diet, when protein requirements are even higher than usual.
I often recommend protein supplements to these clients, usually in the form of a good protein powder, like Optimum Nutrition's Gold Standard 100% Whey.
But sometimes you want something that's easier to take with you on the go. Or perhaps you just want to boost your protein intake with a food that's more satisfying than a protein shake, and tastes good too, as an alternative to eating junk food.
This is the market that protein bars have been trying to fill for years unsuccessfully. For a long time, protein bars were gross. Unwrap a typical protein bar, and you would find a dense, chalky block of "food" that desperately tried to imitate actually delicious flavors like chocolate brownies and peanut butter cups. But they all failed miserably.
Things have changed a lot in the last few years. Now there are a lot of protein bars on the shelves that do taste good. When I found the Detour bar a few years back, I was surprised that it actually tasted somewhat like a candy bar. I've also tried the Oh Yeah! bars, Supreme bars, CLIF Builder bars, and many others. But most of these bars were higher in calories, carbs, and sugar than I'd like. They also had questionable protein sources and ingredients.
Enter Quest Bars. Even though I've seen Quest Bars in stores for a while now, I never tried them because I had given up on protein bars and assumed that Quest bars were just like all the others. That was a mistake.
The short version: these bars taste great, have high-quality ingredients, and have the best macronutrient profile I've seen on a protein bar yet.
Now for the longer version.
I picked up my first Quest Bars from GNC a few weeks ago when they were having a sale. I bought 3: Cookies and Cream, Peanut Butter and Jelly, and Chocolate Chip Cookie Dough.
When I got home, I took a look at the nutrition info on the Cookies and Cream bar. 180 calories, 7 grams of fat, 21 grams of protein, and only 3 net carbs. The bar also has 17 grams (!!!) of fiber. 17 grams! That's insane. And the very first ingredient was a protein blend that was 100% whey protein isolate and milk protein isolate. I was impressed.
Choose Your Sweeteners
I decided to read more about the history of Quest Bars and discovered that there are actually two lines of the bars. One of the lines is sweetened with lo han guo and sucralose, while the other is sweetened with stevia and erythritol (a sugar alcohol).
Lo han guo is the sweetener that I'm betting most people will be unfamiliar with, as I was. Lo han guo – also called luo han guo, luo han kuo, la han qua, Buddha fruit, and monk fruit – is a fruit that is native to southern China and northern Thailand. A process is used to isolate the sweet component of the fruit and create an extract from it. This extract is what is used in products like Quest Bars and Arctic Zero, and it makes a great zero calorie sweetener.
Erythritol is a sugar alcohol, and that immediately made me a little cautious. Sugar alcohols have wreaked havoc upon my digestive system in the past, and caused many unpleasant stomach aches.
After doing a little reading about erythritol, I learned that a) it supposedly doesn't cause upset stomachs, b) it has only 0.2 calories per gram, and c) there is almost no impact on blood sugar from consuming it. So for me, it was definitely worth trying.
None of the other ingredients gave me any cause for concern, so it was time to move on to the fun part: tasting them!
Eating My First Quest Bar
Being that Oreos are my favorite cookies, I had to try Cookies and Cream first. Taking the bar out of the wrapper revealed that it's not the exact same consistency throughout. There are big pieces of cookies distributed throughout the bar as well as large pieces of white chocolate chunks. For a protein bar, it actually looked very appetizing.
I took my first bite. WOW. So good. And so much better than I was expecting. It was the perfect level of sweetness, and I loved the crunchiness from the cookies. After taking another bite and getting a big chunk of white chocolate, I was hooked. The cookies and cream flavor was spot on. I instantly had a new favorite protein bar. After finishing the bar, I wanted another one right away. It was that good.
Let me be clear about something that should go without saying. Even though this is the best tasting protein bar I've had, it does not taste as good as real Oreos. Or any other kind of candy bar. We're eating protein bars here, and so we have to adjust our expectations when comparing them to junk food. Even so, these Quest Bars are delicious in their own right, and you will actually look forward to eating them.
The Other Flavors
After eating Cookies and Cream, I didn't eat another bar that same day. At 17-18 grams of fiber per bar, I didn't want to suddenly overload my system with nearly 100 grams of fiber by eating 5 Quest Bars. But I did go back to the store and buy a bunch more of them, because I wanted to try more flavors.
Here's my impression of the flavors I've tried so far. Rankings are based purely on flavor, as the texture and nutrition profile of each bar is pretty consistent.
Cookies and Cream – 10/10
Like I said in my review above, these are fantastic. Even after trying several other flavors, Cookies and Cream is still my favorite at this point.
You can order Cookies and Cream Quest Bars here.
Chocolate Chip Cookie Dough – 10/10
I have to give it up to this bar as well. Absolutely delicious. You can smell that traditional cookie dough scent after unwrapping the bar, and this bar has chocolate chips distributed throughout. Even though Cookies and Cream is still my personal favorite, this one also deserves a 10/10.
You can order Chocolate Chip Cookie Dough Quest Bars here.
Peanut Butter & Jelly – 9/10
Everybody loves a good peanut butter and jelly sandwich, and this bar actually tasted like peanut butter and jelly. You can even see little bits of jelly sprinkled throughout the bar. Quest really seems to go above and beyond when it comes to perfecting the texture of the bars and making them visually appealing. A definite winner.
You can order Peanut Butter & Jelly Quest Bars here.
Double Chocolate Chunk – 8/10
Like a double chocolate chip cookie in bar form. Rich chocolate taste with chocolate chips sprinkled throughout the bar. If you're a fan of chocolate, you don't want to miss this one. My only complaint with this bar is that I had the taste of artificial sweetener in my mouth afterwards, which I didn't experience with any of the others.
You can order Double Chocolate Chunk Quest Bars here.
Cinnamon Roll – 8/10
Based on reviews, I thought this bar was going to be amazing. Don't get me wrong, it was very tasty and I would buy it again, but I was expecting Cookies and Cream quality from the raving reviews I read. Lightly sweet with a hint of cinnamon.
You can order Cinnamon Roll Quest Bars here.
Lemon Cream Pie – 8/10
This bar doesn't seem to be a favorite among Quest Bar fans, which is why I was pleasantly surprised when I tried it and loved it. You can immediately smell the lemon when you open the bar. Tasting it, I thought it was the perfect balance of tart and sweet. And at only 160 calories and 5 grams of fat per bar, this has one of the best nutrition profiles.
You can order Lemon Cream Pie Quest Bars here.
Chocolate Brownie – 6/10
Average. Unlike the other Quest Bars, this one doesn't really have anything interesting about its texture. There's a dull chocolate flavor throughout that kept reminding me of artificial sweeteners. It isn't bad at all, but I've been spoiled by the other flavors.
You can order Chocolate Brownie Quest Bars here.
I'll update this post with other flavors as I try them.
Microwaving The Bars
I read in many places that the Quest Bars taste even better if you microwave them for about 10 seconds. When you do this, the bars soften up and become gooier. I microwaved the Chocolate Chip Cookie Dough flavor and it was fantastic, but I had to eat it with a fork afterwards.
Some people even put them in the oven, usually 7-8 minutes at 350 degrees. Although I bet this would be good, having to preheat an oven to enjoy a protein bar just isn't worth it to me.
Experiment for yourself and see what you like the best.
Before I finish up, I just have to share this crazy video of a guy who thought Quest Bars were just too small, so he decided to make his own super mega protein bar. Don't try this at home, kids.