11 Tasty Low Calorie Snacks That Aren't Fruits And Vegetables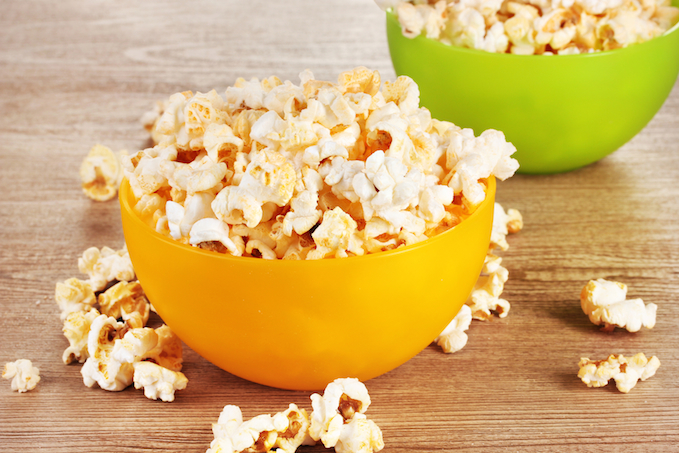 Snacking is bad for you, no doubt about that. But snacks aren't. Let me explain.
A lot of people sit at their desks during the day with a bag of potato chips, chocolate, pretzels, jelly beans, or whatever other kind of junk food they like to mindlessly eat while doing – or not doing – work. This type of snacking is usually motivated by boredom, unhappiness, stress, or anger. Or it's just because you really like food and don't ever want to stop eating it.
This is what I think of when I hear the word "snacking". The calories pile up as you consume excessive amounts of food with lots of sugar and no nutritional value. And this is bad for you.
But snacks aren't inherently evil. If you plan to have snacks as part of your diet, they can actually be very helpful.
On the one hand, snacks satisfy cravings. Dying for some chocolate? Then taking a 5 minute break to enjoy some pudding can kill the craving and get your mind off it, while at the same time giving you a few minutes to relax and de-stress.
Snacks may also help to prevent binging. Knowing that you aren't always depriving yourself of foods that you enjoy, you're less likely to go on an all-out binge-a-thon.
Most health professionals would suggest that your snacks should be fruits and vegetables. And this is great advice, absolutely no argument here. Fruits and veggies – especially the veggies – are low in calories, satisfying, and are a crucial part of your diet.
But if you're craving chocolate or ice cream, then a handful of carrots just isn't going to cut it.
So let's look at some relatively healthy snacks that fall into the "fun" category. These snacks will satisfy your cravings without ruining your diet. Because all of these snacks are 150 calories or below, you can easily fit them into any weight loss plan.
VitaMuffin VitaTops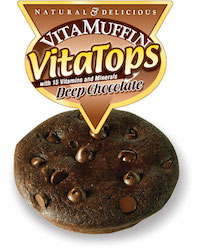 I have one of these Deep Chocolate VitaTops several times per week. My cousin Tara introduced me to the VitaMuffins products a long time ago – she was, and still is, obsessed with them. The Deep Chocolate flavor tastes like you're eating a brownie, but it's only 100 calories. And there's a bonus: each VitaTop has 9 grams of fiber!
Nutrition info for 1 VitaTop
Calories: 100 Fat: 1.5g Carbs: 26g Protein: 4g
Popcorn Indiana Sea Salt Popcorn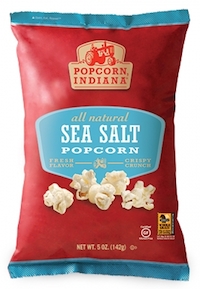 You can eat a whole bowl of this popcorn – half a bag – for only 130 calories. And it's a very satisfying 130 calories. My favorite foods on a diet have a high enjoyment to calorie ratio, and it's tough to beat popcorn in that department. If you're going to a movie, sneak a bag of this in to avoid the overly priced calorie-bomb popcorn they serve.
Nutrition info for 3 cups
Calories: 130 Fat: 6g Carbs: 18g Protein: 3g
Cheerios with Low-Fat Milk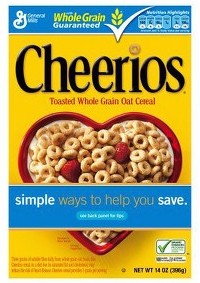 Cereal gets a bad rap. Sure, it isn't the most wholesome food in the world, especially if we're talking about sugar-laden varieties like Fruity Pebbles or Cocoa Puffs, but it isn't terrible either. Cheerios are on the better end of the cereal spectrum with only 1g of sugar per serving. And the first ingredient of Cheerios is whole grain oats. Have a cup of Cheerios with a little skim milk and you've got a great snack.
Nutrition Info for 1 cup of Cheerios and 1/2 cup skim milk
Calories: 140 Fat: 2g Carbs: 26g Protein: 7g
Fage Fruyo 0% Strawberry Greek Yogurt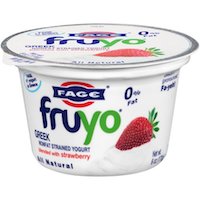 This delicious yogurt packs in a whopping 14g of protein per serving. The blended strawberries add great flavor and the perfect amount of sweetness. And the significant amount of protein in this snack will help keep you satisfied. In terms of nutrition, this is definitely one of the healthiest snacks on this list.
Nutrition Info for 1 container
Calories: 140 Fat: 0g Carbs: 22g Protein: 14g
JELL-O Chocolate Pudding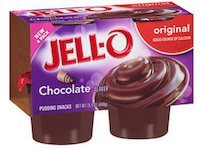 JELL-O has been knocking it out of the park for years with a variety of low-calorie, delicious snacks. I chose the classic chocolate JELL-O pudding for this list because it's one of my favorites, but you could really go ahead and indulge in any of their pudding varieties (including Oreo and S'mores). And don't bother going for the low-fat version – the original version only has 1.5g of fat, hardly enough to have any effect on your diet. The difference between regular and fat free is just 10 calories.
Nutrition Info for 1 container
Calories: 110 Fat: 1.5g Carbs: 24g Protein: 2g
Pretzel Crisps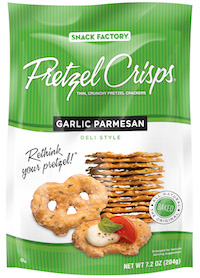 My dad had the Garlic Parmesan Pretzel Crisps at his place when I was visiting and I had to try them – and of course, they were delicious. Pretzel Crisps are basically just pretzels reimagined as chips. They're flat, crunchy, full of flavor, and come in a ton of different varieties including the garlic parmesan I mentioned, chipotle cheddar, honey mustard and onion, and a bunch more. All the flavors are 110 calories. The only problem with this snack is that it can be addictive. Measure out your portion first and then put the bag back in the pantry.
Nutrition Info for 10 Garlic Parmesan Pretzel Crisps
Calories: 110 Fat: 1.5g Carbs: 22g Protein: 3g
Kashi Chewy Granola Bars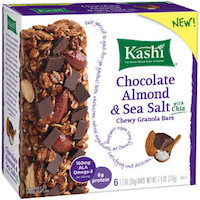 Kashi has long been a leader in healthy choices at the grocery store, so naturally they deserve a place in the list for their granola bars. Their granola bars are minimally processed and have no partially hydrogenated oils or high fructose corn syrup. The chocolate almond and sea salt flavor has a combination of dark chocolate chunks, sea salt, and almonds that gives it both great texture and flavor. Try their crunchy granola bars as well, but I'm always partial to the chewy ones.
Nutrition Info for 1 Chocolate Almond & Sea Salt bar
Calories: 100 Fat: 1.5g Carbs: 26g Protein: 4g
Pretzel M&M'S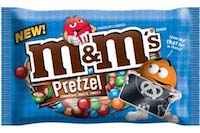 Pretzels and chocolate are a winning combination. Everybody already knows that M&M'S are pure chocolate goodness, but when you add pretzel to them, they're taken to a whole other level. The addition of saltiness and crunchiness elevates the traditional M&M to new heights of flavor. And the best part? Pretzel M&M's are actually lower in fat and calories than traditional M&M's, coming in at 90 calories less per bag.
Nutrition Info for 1 package
Calories: 150 Fat: 4.5g Carbs: 24g Protein: 2g
Nilla Wafers Reduced Fat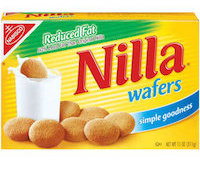 I'm a cookie guy. I can't help it, I just love them. Nilla Wafers are simple and delicious. Lightly sweet with a hint of vanilla. Whenever I get a craving for cookies, these really do the trick. The reduced fat version lets me eat 8 cookies for just 120 calories. That's just 15 calories per cookie. Compare that to Oreo's 53 calories per cookie, and you can easily see why these are a better choice if you're looking for a more substantial snack.
Nutrition Info for 8 wafers
Calories: 120 Fat: 2g Carbs: 24g Protein: 1g
Special K Cracker Chips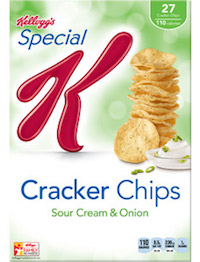 These are one of my favorite snacks because just like with the popcorn, it feels like you're eating way more than you actually are. You can eat a large portion of these chips for a mere 110 calories. They're perfect for when you're craving something salty and crunchy, like a bag of potato chips. They have a few different flavors, but I'm partial to the Sour Cream & Onion.
Nutrition Info for 27 chips
Calories: 110 Fat: 2.5g Carbs: 22g Protein: 2g
Arctic Zero Chocolate Ice Cream with PB2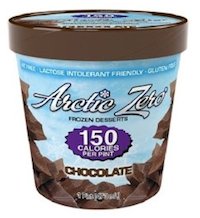 Remember when I talked about the enjoyment to calorie ratio above, for the popcorn? Well, Arctic Zero with PB2 is the reigning king when it comes to maximizing your enjoyment per calorie. I eat half a pint of this ice cream along with a tablespoon of PB2 for only 96 calories. Let that sink in for a moment. A half pint of ice cream with a peanut butter topping. For 96 calories. Oh, and it also has 5 grams of fiber and 9 grams of protein. Ya, it's going to take a while for a new snack to come along and dethrone the king.
Nutrition Info for 1/2 pint Arctic Zero and 1 tablespoon PB2
Calories: 96 Fat: 1g Carbs: 15g Protein: 9g